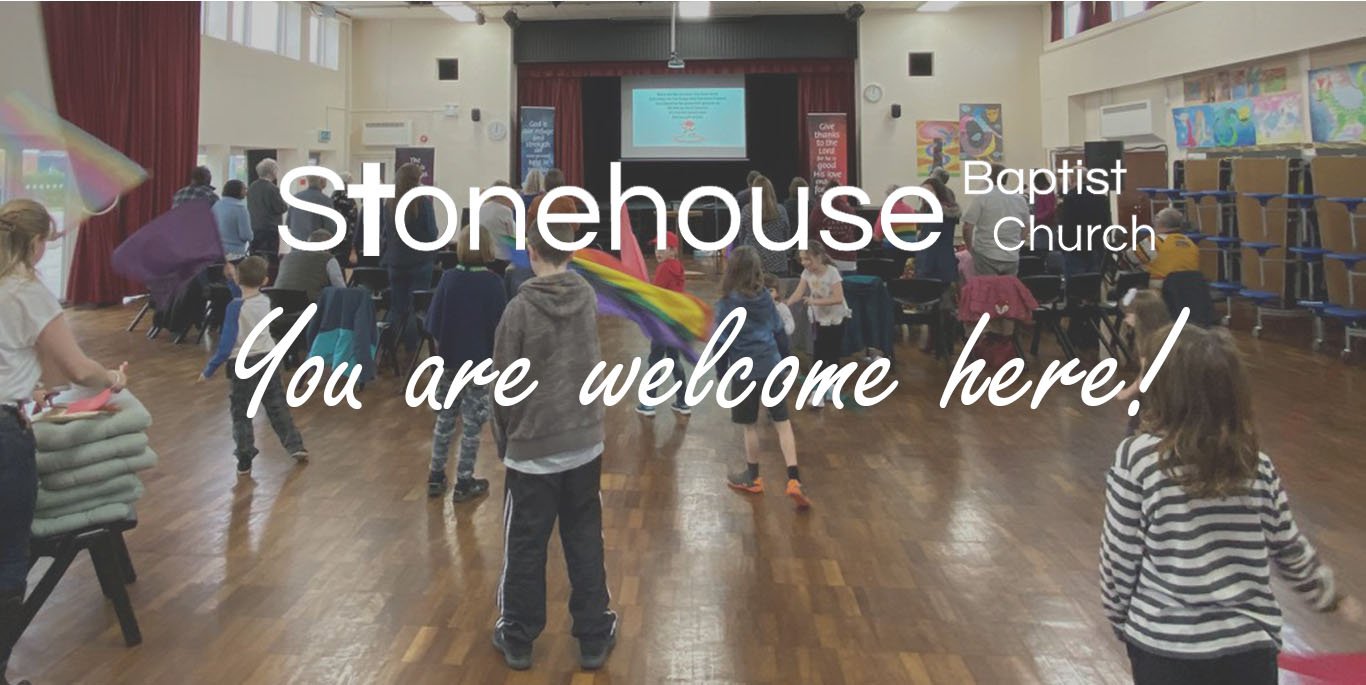 Loving God | Seeking God | Serving God
Stonehouse Baptist Church is a community of ordinary people dedicated to following Jesus in our local community.
Every Sunday we meet at our building at Gloucester Road at 10:30am.
We look forward to seeing those who are able to join us.
---
Launchpad prayer - January 2022
We know that, for the past six months or so, the Lord has been speaking to us as a Church about who we are in Him, who we are to be together, and how we are to serve Him, to be His hands and feet, his eyes and ears, out in the community as we start another new year in unprecedented times.

We invite you all to join us and spend some time in prayer each day, using the prayer sheet as a shared focus point, to sit at Jesus' feet, to hear His voice and to join us as we seek His specific direction for us as a Church as individuals – as a body – and out into the community

---
Prayer sheet Week Three: 17th - 22nd January
Understanding your identity as a child of God. Ephesians 4 v 1-16
Monday
Verses 1-3: "Walk in a manner worthy of the calling with which you have been called..."

There are five distinctive qualities listed in this passage as a descriptors of 'walking worthy of the calling with which you have been called.
Spend some time thinking about each of these, asking for forgiveness where we have fallen short. Ask the Lord to increase them within you for His glory, also lowliness – gentleness – longsuffering – bearing with one another - love.
Tuesday
Verses 4-6: The power of One.

We need the grace of God to be in unity with one another as a Church. Revisit the list from yesterday.
Reflect back on the past six months of our journey as a Church. Where have we witnessed the 'power of One' at work among us? Where have the gifts above been evident among us? Ask the Lord for an increase for us a body in all areas.
Wednesday
Verses 7-10: "He who descended is also the One who has ascended far above all the heavens, that He might fill all things."

Thank God for the grace He gives to us through the Spirit.
Thank God for the gifts He has given to you.
Thank the Lord that He was prepared to die for us, for our sins, that we may be raised with Him in a new life. Ask for His guidance as you consider how you might use the gifts He has given to you for His glory and purposes.
Thursday
Ephesians 4 v 1-16: Read the whole passage.
Pray for unity of hearts, minds and purpose as we meet as SBC for our family meeting at 7:45 pm.
Friday
Verses 11- 14:

We have been gifted by God for specific works in His kingdom. Each of us has an essential part to play. Each one is as important and as necessary for the other, for the fullness of Christ to be seen and witnessed among us.
Pray for those already in the places of gifting mentioned in this passage, for SBC as we consider the issues raised at our church meeting; for God to raise up a new army for such a time as this. One focus - Him, one mission - His. Let's seek His face as we consider how we're being led to take the hope we have in Him, out into our neighbourhoods and town. Pray for revival to flow along every street and for souls to be saved. Pray that we won't be tossed to and fro by circumstances and the enemy's forces.
Saturday
Verses 15-16: "..speaking the truth in love, may grow up in all things into Him who is the head – Christ."
Ask for God's grace to always speak in truth, dealing truly with one another, without any fear.
Pray for wisdom to hear His voice, knowing when He is speaking to us as a Church, so that we 'grow up in all things' in and with Him in whatever He calls us to do as a body going forward in the year ahead.
Pray for an effective working of our Church, everyone playing their part, causing the growth of the body to reach out to others in the community, from a place of love, like unconditional love shown to us by Him. Nothing for Him without Him. His work – His timing – His way.
---
COVID-19 Update
The government has announced that England has moved to Plan B in response to the risks of the Omicron variant.
Face coverings must now be worn in places of worship.
Some people, including children under 11, are exempt from having to wear face coverings in any setting. Furthermore, anyone with a health condition or disability, which means they cannot wear a face covering, has a reasonable excuse for not wearing a face covering.
The government advises that letting fresh air in, reduces the risk of catching or spreading COVID-19 and it is particularly important before, during, and after meeting people you do not live with indoors.
We will therefore continue to ventilate the SBC building before you arrive (and during the service, weather permitting) as this makes a significant difference. We will not have the heating on unless absolutely necessary. We would therefore advise you to come suitably dressed as it may be cold. We will have hand sanitiser available to use on entry and we will ensure that some chairs are available (grouped in pairs), near doors and the stage for those who prefer to still keep social distancing.
Please speak to a member of the LT if you would like a chair to be in a particular place.
We would suggest that those, who can, do a Lateral Flow Test before coming to the Sunday meeting, or any meeting in the SBC building. It falls in line with the guidance of "do a LFT before you go visit someone vulnerable".
If you have any Covid-19 symptoms we would ask that you remain at home.
We hope that these measures will ensure that everyone who would like to attend meetings may do so.
---
Isaiah 61:3 They may be called oaks of righteousness, the planting of the Lord, that he may be glorified.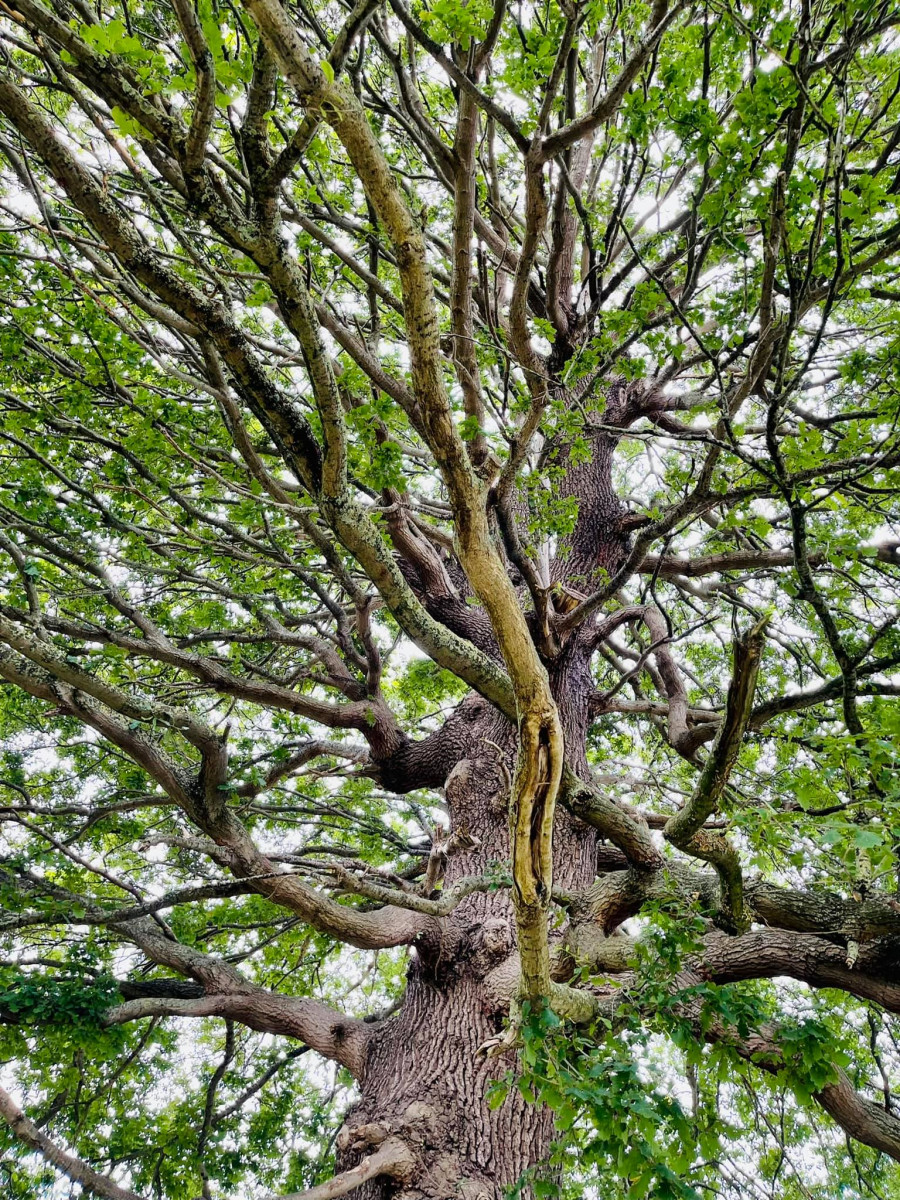 The oak tree provided the back drop to our services at Laburnum Park during the summer of 2021. [by Rev. Jo R]
---